Copyright © Project Primrose - Registered charity England and Wales (1143627) Based in Cornwall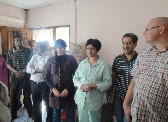 With even a little of your time in helping us to support these fantastic children, we can together all make a huge difference to their daily lives.
Everything that you do, you send directly to the orphanage, where everyone volunteers their time and no one gets paid, not even the staff. Violet who is 77 years old has given her family home to the Children of Duncan Village to be run by the trust. This gift of kindness from her has touched us all. There are very few people in the world that would do such a kind and compassionate thing, the children of Duncan Village are indeed blessed to have this Angel of Mercy in their midst.
Many of these orphaned children are suffering from Aids, Cancer, Malnutrition, Abuse and Neglect. They would be homeless without the loving care at this orphanage No one at the centre or at Project Primrose gets paid - that way every penny is spent where it is needed most -
"On The Children" We try to raise awareness about the children's plight via talks, using multimedia presentations, at schools, clubs and various organisations.
If you would like to help by getting us to come along talk to your group, organisation, school or club, we would be delighted to come and share our wonderful experiences with you all where possible.
Likewise if you would like to become a spokesperson in your area please contact us. We can supply you with information, material, multimedia presentations and much more.
All funding or assistance you provide is sent by you directly to the orphanage Trust Account.
We hold a variety of social events which are always great fun and a wonderful time to share our experiences.
About us……simply we are just a group of individuals who together want to make a difference to the lives of these amazing children who through no fault of their own have been born into a life of illness, abuse, absolute poverty and neglect.
Often the most valuable thing we do is just taking a personal interest in them and their achievements. We want every Child to feel valued and cared for!